On 12th August 1948 (65 years ago this month) a fingerprint identification was made that was going to prove historic and ground breaking, but more importantly it helped solve an horrific murder that had put fear into the mothers of a North-West England community.
3 year old June Anne Devaney was taken from her cot in Ward CH3 of Queens Park Hospital, Blackburn; and was sexually assaulted and brutally murdered.  The only tangible evidence was fingerprints found on a Winchester bottle that was lying next to the empty cot.
This discovery triggered a mass fingerprint exercise (the first of its kind), where all males over the age of 16 and were known to have been in Blackburn during the 14th and 15th May, were to be fingerprinted and compared to the marks found at the crime scene.
It took almost 3 months and the collection of over 46,000 sets of fingerprints before the identification was made, and the donor, 22 year old Peter Griffiths (an ex-Guardsman) was arrested the next day.  He was found guilty of the murder and was hanged at Walton Gaol on 19th November 1948.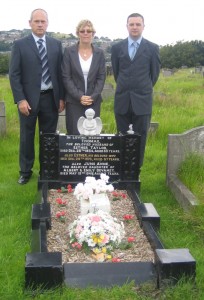 5 years ago today (20th August) I took part in a visit with The Fingerprint Society to the grave of June Anne Devaney, which was partly in remembrance of the little girl that sadly lost her life far too early in an horrific fashion; but also as a tribute to those who never lost faith in investigating and solving the crime… in particular those who had the responsibility in retrieving and analysing thousands of fingerprints.
Click here to view a BBC video news story on the case.
RIP June Anne Devaney