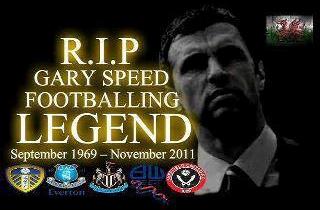 Although I have 101 ideas on which to blog but just haven't had the time to put fingers to keyboard, I feel compelled to pay tribute to and share memories of a man that has made a monumental contribution to not just Welsh football, but British football.
When I heard the news this afternoon whilst driving that football was mourning the passing of Gary Speed, I felt truly numb and physically sick; and when the fans tribute from the Swansea v Aston Villa game was broadcast on the radio I was moved to tears.
I have heard many supporters today say that they are devastated and distraught, and although I have been extremely emotional and dumbfounded by confusion and grief; the extreme emotions should be exclusive to those who knew Gary well, and my heartfelt sympathies go out to his family and friends.
The amount of tributes that I have seen and heard today are testament to a player that has never seemed to have fallen into the trappings of a playboy lifestyle that has often plagued professional footballers, despite his unquestionable talent and good looks.  I also know many stories of a man who was an excellent leader, role model and all-round good guy.  This doesn't surprise me as he is a fellow Virgo like me.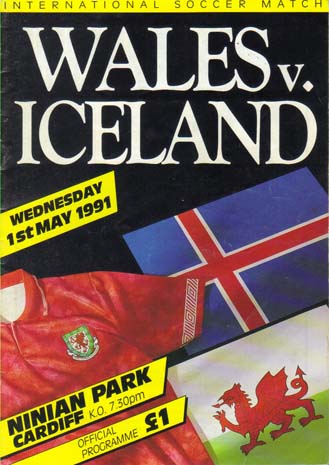 My first "encounter" with Gary was during my first ever international match, Wales v Iceland on 1st May 1991 at Ninian Park.  He had already helped Leeds win the "old" second division title in the 89/90 season and this was his 5th cap.  To be totally honest, I can remember very little of the game itself except for the Paul Bodin penalty that ended up being  the only goal.
After this experience I became a staunch supporter of the national team at home, and saw Gary on loads of occasions run the midfield, as he was mister dependable.  When other big name players would pull out (or be pulled out) of Welsh internationals, you could always rely on Gary to be on the team sheet.  This is obviously how he became Wales' most capped outfield player with 85 appearances, and could have easily surpassed "Big Nev" Southall's 92 cap record if he hadn't retired from international football earlier than he should have.
Being an Evertonian, one of my greatest moments in football was when they signed Speedo, who himself was a childhood supporter of the Toffees.  The reason why I supported Everton in the first place was that they had a few Wales players in the great squad of the mid 80's.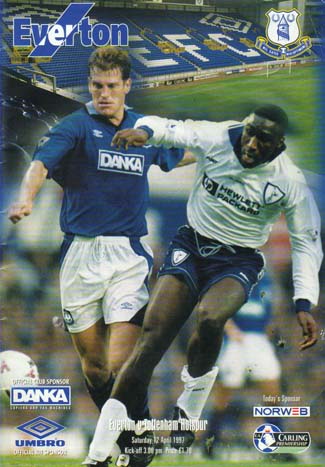 As a young man who lived 200 miles away from Liverpool, I never got much opportunity to get to Goodison Park; so I had to wait until 12th April 1997 to see Gary in an Everton shirt whilst playing Tottenham.  I wasn't disappointed either, as I was there with mates who were Spurs supporters and I correctly predicted that Gary Speed would be the first goalscorer.  It was a trademark Speedo header in the 11th minute, and as it was the only goal it ended up being the winner.  Gary went on to be a great Everton captain, and I was very sad to see him go to Newcastle a year later.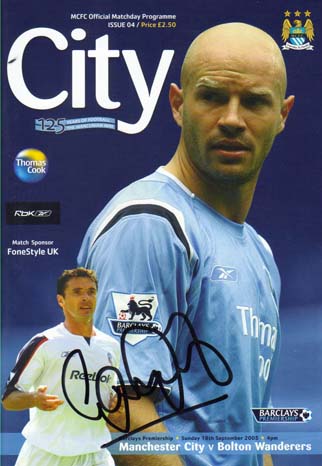 I am privileged to have met him on a couple of occasions whilst I was working behind the scenes at Manchester City on matchdays.  The most memorable was on 18th September 2005 when Bolton were the visitors to Eastlands.  Man City completely dominated the match but were unable to find the net.  Then a handball by Richard Dunne gave Speedo the opportunity to slot home a 93rd minute penalty to win the game.  As I was working in the press room on that particular day, and had post-game responsibilities to guide players and managers to the awaiting press; I had a quick chat with Gary as I tried to persuade him to come out of international retirement and he signed my programme.  This sort of behaviour was against club policy on my behalf, but I couldn't miss the chance to talk to one of my all-time heroes.
I thought Gary's appointment as Wales team manager was inspired.  Mark Hughes had already proved that although someone may have little managerial experience; a huge knowledge of the game, a passion for your country and the respect of players and other managers was a great foundation for moulding a successful national team.
I am sure his passion and enthusiasm was infectious and this was evident in how he got very young players to move up an extra level and play the kind of football not seen in the national team for many years.  And even though he got off to a shaky start results wise; everyone could see what he was trying to achieve and his aim of winning the hearts and minds of Welsh football supporters was certainly starting to pay dividends.
Even though Wales now have to face the 2014 World Cup qualifiers without their inspirational manager; we now have to find someone in the same mould, with the same drive and belief; so that the players can make the ultimate tribute by qualifying for a major championship.
I would also like to see the Football Association of Wales organise a memorial game in the Millennium Stadium of a Wales team (made up of past and present players) against a team of other footballers that Gary has played with or managed; the proceeds of which to go to his family and / or any nominated charities that were close to his heart.
The biggest disappointment is the apparent manner of his death.  It goes against everything that I know or have heard of the man; and when I think of the likes of John Hartson's fight to battle cancer, it just seems like an awful waste of a life.  I hope I and others find the strength to live my life to the fullest and to overcome any difficulties I may face without feeling the need to end it.