Thank you for visiting my blogsite!
So who is TrickyCase?
My current role is a Business Change Officer with the Centre of Applied Science and Technology (CAST) at the Home Office.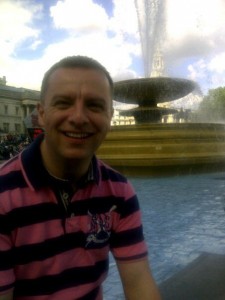 This role requires me to visit forensic departments at police forces in England and Wales, and other Government agencies and assist them implementing work processes that aim to improve efficiency and deliver better results.
I am currently involved in some fingerprint-related projects, including at looking how the police will implement the Protection of Freedoms Act.I first got involved in fingerprints in 1994 when I joined the South Wales Police Fingerprint Bureau in a clerical position.  By 2000 I had completed the required national training programme to qualify as a fingerprint expert and have the responsibility to present fingerprint evidence at court.
In 2001 I moved to North West England and got a position with Greater Manchester Police, which offered new opportunities to work on high profile casework and take part in Disaster Victim Identification (DVI) exercises.I am also webmaster for The Fingerprint Society, which means I manage and maintain their website, and their Facebook and Twitter social network feeds.Personally, I live in South Wales with my wife and children; and I enjoy watching sport and films, listening to music, and spending time with family and friends.
I intend to use this site to promote the excellent forensic work that is being carried out internationally, but with a main focus in the UK.
I am going to be pretty uncontroversial and avoid any political issues, as I love my job and I don't want to cause upset or embarassment… but as a disclaimer… all the comments attributed to me on this site reflect my own personal views, and may not be the views shared by CAST or The Fingerprint Society.