It was interesting listening to recent comments by Her Majesty's Inspector of Constabulary (HMIC), Tom Winsor, saying that the police do not have access to the current state-of-the-art technology to enable them to effectively prevent crime. In the main, I think he is correct; though there are a number of reasons why this is the case.
When it comes to technology it takes a frustratingly long time to test security and compatibility and procure and implement new software and hardware. By the time this process has been completed technology has advanced to a new stage.
The majority of police officers are supplied with 'old device' BlackBerrys that allow them to access force emails and local and national police data; but in the vast majority of instances a lot of the phones functionality has been disabled due to security policies. This calls into question that even if officers were supplied with the latest technology, would they be able to use them to their full potential?
Also, from my experiences with talking to different police forces, IT departments have been particularly hit badly due to the current financial climate and would find it difficult to implement new large-scale technology projects.
Where does this leave fingerprint identification?
The identification of individuals electronically by fingerprints has been long regarded as reliable and robust. The use of LiveScan technology at custody suites to offer non-verified (no human verification) results against a full tenprint search has been used by some police forces in England and Wales for over 20 years and has been adopted by every police force since the implementation of the National LiveScan Rollout in 2000/2001. This has been further bolstered by the piloting of lights-out tenprint technology, which would rely wholly on an automated decision as to identity in the majority of cases. This has progressed in recent years to the roll out of MobileID devices, for use by police officers on patrol to query a persons identification by the roadside or in the street; or for use at large scale public gatherings like sporting events or music festivals.
A recent pilot exercise in the West Midlands has recently resulted in positive results http://www.bbc.co.uk/news/uk-england-birmingham-22165096 Some of the issues that exist in relation of taking controlled fingerprints, especially in a custody environment, relate to quality. There are a number of factors that affect fingerprint quality:
The competence of the taker
The willingness of the donor
Skin condition of the donor
Maintenance and cleanliness of the equipment
This is because the nature of taking fingerprints involves the taker controlling the donor's digits in a 'rolling' movement whilst maintaining contact with a fixed platen in order to capture the maximum amount of ridge detail possible.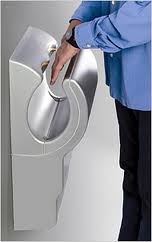 I believe the future of capturing ridge detail, quickly and with the best possible quality is through a contactless, 3D, accurate, laser-scanning facility. I have always pictured this device to look like the hand dryers you would find in a public washroom (pictured).
If you are interested in this technology, there have been a few research documents recently published by the US National Institute of Justice:
Contactless Fingerprint Technologies Assessment (Version 2)
NCJ 245147, February 2014, Grant Report, by Phillip Wiggin, Lars Ericson (56 pages)
Evaluation of Contact versus Contactless Fingerprint Data (Final Report v2)
NCJ 245146, January 2014, Grant Report, by Azimuth Inc. (116 pages)
Mobile Fingerprint Capture
NCJ 245148, 2013, Grant Report, by Sam Mil'shtein Ph.D. (43 pages)
What about marks found at scenes of crime?
Police forces have been given the capability to retrieve fingerprints from crime scenes and send them to their local fingerprint bureau, by scanning the evidence either directly at the scene or when the CSI returns to their base using the techniques outlined in the Remote Transmission Project. This method is seen as a little cumbersome, as the technology required would be a computer and scanner, which are not considered the most mobile of equipment.
Also, although it is possible to use all mobile networks and public wifi to transmit data (using sufficient firewalls), a lot of force IT possible restrict the mobile networks and disable the use of wifi on their mobile equipment. These restrictions seriously impact the amount of data that can be sent from scenes.
I have been recently enjoying watching the 'Castle' show with my wife via the on-demand service from my television supplier. It is a fictional crime show that I have been able to tolerate, as the mainstream forensic element of the programme is not as far-fetched as many of the CSI based shows (although the pathologist can conjure up some results that even the mighty Quincy would have found astonishing).
That was until I came across the episode 'Tick, tick, tick' in series 2. In this episode (and the next instalment 'Boom'), the Boston Police Force are joined by the FBI to help solve a case of a serial killer. Although there is probably a belief that the likes of the FBI, US Secret Service, Interpol and the National Crime Agency (NCA) have access to amazing technology and resources that can provide results in seconds; this is a huge misconception and from colleagues I know in these organisations they are restricted by the same constraints as everyone else, if not more due to the security conscious nature of their work. About 10 minutes into the episode you will see the FBI agent take a split second to snap a picture, using her smartphone, of a fingerprint that was visible on a highly lacquered bag, and send it for a search. Apart from the highly reflective surface of the bag, not allowing sufficient time for the camera to focus and not providing any mechanism to scale the fingerprint…. the actual theory behind the process is not beyond the realms of current technology.
Some police forces in England and Wales have already started experimenting with smartphones and tablets to capture prints at crime scenes (in addition to recovering them using conventional evidence recovery techniques) and send them electronically to the fingerprint bureau, where they would by manually imported into the national IDENT1 system for an automated search.
The results of which could be manually compared and returned to the CSI or Investigating Officer within an hour. The problems still exist on what technology and data transfer protocols would acceptable to a police force. Modern phones and tablets now have a camera which can take images in excess of 8MP and provide enough clarity to make them suitable for an automated search. There are also tools, such as macro lenses that can be acquired that can improve image quality.
However, they would probably not conform to the internationally recognised standards recognised for the transfer of fingerprint data (NIST); therefore caution must be exercised when acting upon this intelligence; and it will still be likely for the evidence to be captured by conventional lifting and /or using DSLR photography.
What about returning real time unverified scene mark hits?
The ultimate CSI Effect moment is if the CSI or Investigating Officer can receive a fingerprint identification within seconds of sending it without human intervention… but is this possible? Well yes… in theory… I have seen 2 'prototypes' of this kind of technology by the leading biometric technology companies, though they have been demonstrated using very small databases and carefully manufactured examples. The problem with crime scene marks is that they are left unintentionally and in the vast, vast majority of cases, these marks are of much inferior quality than fingerprints taken in a controlled environment at a custody suite or using MobileID.
To reach a high level of confidence as to identity, LiveScan and MobileID requires more than one good quality print from different fingers of the same person to facilitate this. You are very rarely afforded this kind of luxury at a crime scene. When these marks are manually searched by a human, the results are returned as a list of the most likely candidates and require careful comparison by an expert to determine if there is a match. You could potentially improve results by limiting the size of the database to which you are searching. It is generally understood that the majority of acquisitive crimes are committed by a small minority of people, and it is also recognised that the majority of low level habitual criminals will commit crimes within a small radius of where they live / work. If the search can take these 2 things into consideration (this data is available on PNC) then it could markedly improve the chance of a positive hit.
The only problem with this, is that it is susceptible to psychological bias. If a non-verified result is returned of a well know offender from the local area, it may cause the officer to confidently believe that they were involved, even though the print may not be theirs. Police officers for over a century are used to the premise that fingerprint evidence is practically infallible and not only can they arrest on the basis of an identification, but also charge and even secure a conviction, even if fingerprints are the only evidence in the case (R v Castleton). As a result, receiving non-verified hits in this manner would require a change in attitude from investigating officers, so that they only use this information as limited intelligence which could act as a potential early line of enquiry, which must be treated with caution.