Following the death of Ronnie Biggs and the release of 2 BBC Dramas documenting the events of The Great Train Robbery, I thought I would just publish a short update to my previous blog on this subject.
The first drama, which was broadcast last night, and focused on the robbers angle of the offence provided us with a few clues of the impending role that fingerprints would play in the investigation.  It certainly depicted that the robbers were careful to wear gloves 'for the majority of their time at Leatherslade Farm'…. but not all the time; and due to them having to vacate their hideout in a hurry, they feared it was only a matter of time before evidence was found.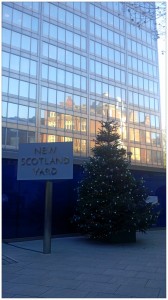 Tonight's episode will focus on the police response and investigation.
The tasters on the programme website hints that fingerprints will play a prominent role, with Tim Pigott-Smith being cast in the role of 'the finger print man', DS Maurice Ray of the New Scotland Yard Fingerprint Department (although Mr. Ray is ranked as a Superintendent at this time in the book 'The Fingerprint story').
There is a short description of Superintendent Rays court testimony, as reported by The Glasgow Herald, published online.
I'm interested to know who the fingerprint consultant used in the programme was.  Mr Pigott-Smith states he is a retired officer.
If you are unable to watch tonight's programme then it will be available on BBC IPlayer, as is last nights installment.
I will hopefully get around to reviewing the drama in the near future.